Human Waste Painting – Tablou Deseuri umane
I feel enraged by many things and I decided to paint a human waste painting. I am enraged about the way we, humans, destroy our planet by throwing garbage where it doesn't belong.
The water sustains life and we were born from water. Even so, we continue to destroy the aquatic environment. As a result, see the bleaching of the coral reef.

We are destroying our world and we are ignorant. Humans don't accept these facts for the sole reason that the waste they produce is not in their way to the work or to the supermarket. Hence, they don't care about it. But the waste goes into the forest, waters and lands from which we feed ourselves. Many diseases are related to this fact, but not many people care. Animals die because their environments are filled with plastic waste and toxic materials.
Animals like sea turtles, sea lions, birds, whales and dolphins die each day due to human waste, as stated on One green planet.
I painted the "Human Waste Painting" in try to rise awareness about the effect of our actions.
I named it like this because I felt like taking it in two directions, the one where the human waste we produce is starting to cover all the planet and the second where we produce so much waste that we ourselves become human waste to this planet, we become part of the waste we produce.
I got inspiration for the "Human Waste Painting" from several picture from the internet. One is a stock photo. The other two photos are from an artist photographer, Gregg Segal, who is also militating to rise awareness about the environment. See more here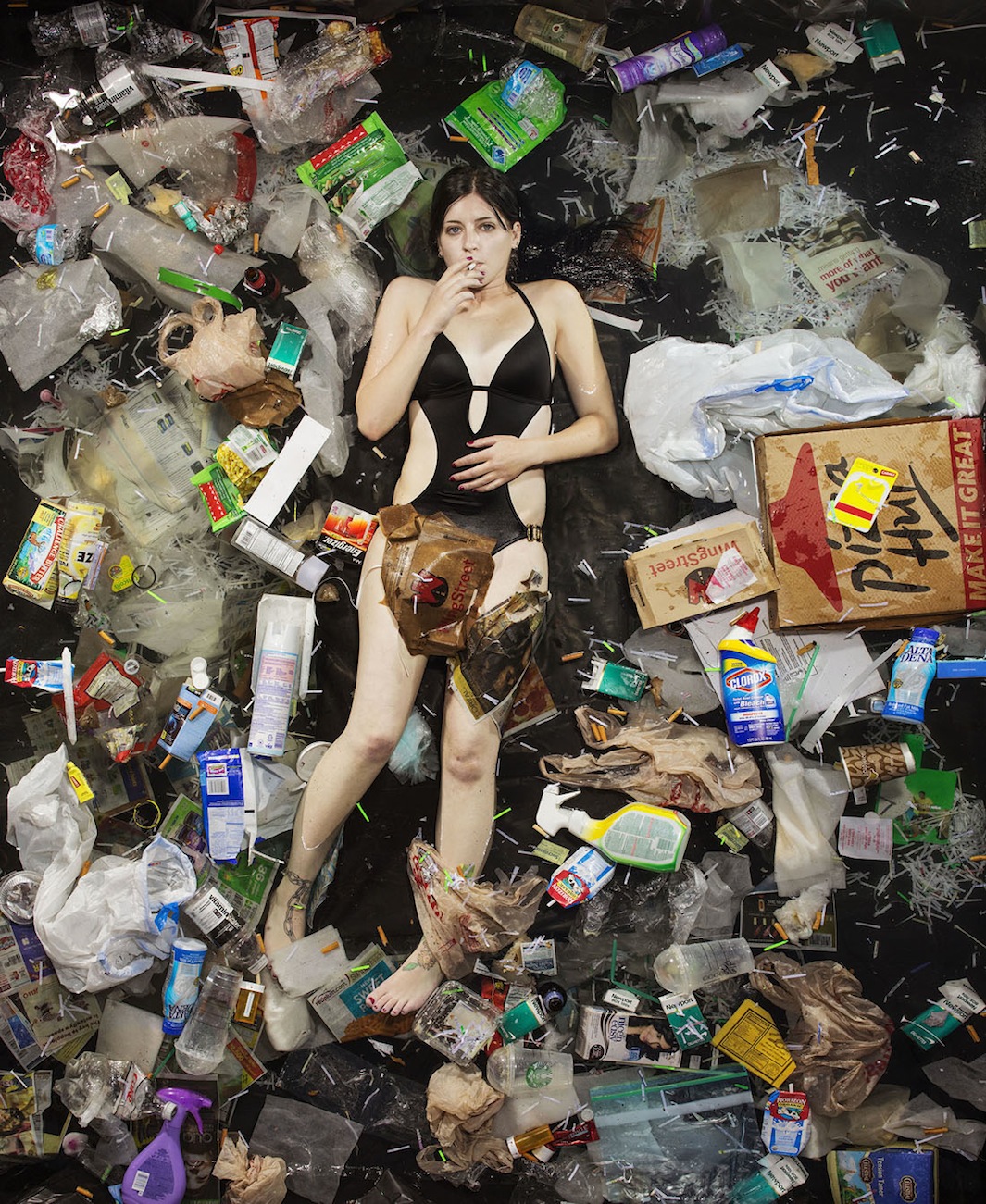 Tabloul Deseuri Umane
Simt o imensa furie cauzata de multe lucruri si am descis sa pictez un tablou despre deseuri umane. Sunt infuriata de felul cum noi, oamenii, distrugem planeta noastra prin faptul ca aruncam gunoi acolo unde nu trebuie
Apa sustine viata si ne-am nascut din apa. Cu toate astea, continuam sa distrugem mediul acvatic. Drept rezultat, vezi inalbirea recifului de coral.
Distrugem lumea noastra si suntem ignoranti. Oamenii nu vor sa accepte aceste fapte pentru singurul motiv ca aceste deseuri pe care le produc nu se afla in drumul lor catre munca sau catre supermarket. De aceea, nu le pasa de el.
Dar deseurile ajung in paduri, ape si pamanturi de unde ne hranim. Multe boli sunt asociate cu acest fapt, dar nu multora le pasa sau cred asta. Animalele mor pentru ca mediul lor este umplut cu deseuri de plastic si materiale toxice.
Animalele ca testoasele, leii de mare, delfinii si balenele mor din cauza deseurilor umane, asa cum mentioneaza si One green planet
Am pictat tabloul "Human Waste Painting" – Deseuri Umane – din incercarea de a eleva constientizarea legata de efectele noastre.
Am numit-o in felul asta deoarece am simtit sa o duc in doua directii, una in care deseurile umane pe care le producem incep sa acopere planeta pana la refuz, iar a doua unde producem atat de multe daune naturii si mediului incat ajungem sa fim noi parte din deseurile pe care le producem.
M-am inspirat pentru acest tablou din cateva poze de referinta. Una este o poza de stock. Celelalte doua sunt realizate de catre artistul fotograf, Gregg Segal, care, la fel, militeaza pentru a creste atentia asupra poluarii mediului. Vedeti mai multe la linkul
Tools
– Acrylic paint
– 50x70cm canvas
– brushes
– reference photos for elements